Back to OvationPro for RISC OS page
Overview
This page gives a general overview of the main features of Ovation Pro.
1. DTP for the Next Generation
Using years of DTP experience, the team that brought you the highly acclaimed Ovation, have started from first principles to create the truly professional Ovation Pro. This fantastic new desktop publisher offers a staggering range of state-of-the-art features, all accessible from a superb new user-interface making it easy to learn and instinctive to use.
Ovation Pro provides a single solution to all document production needs, ranging from single-page letters to complete books and from simple leaflets to full-colour adverts. Ovation Pro is without doubt, the most powerful desktop publisher available on the RISC OS platform.
The Ovation Pro package comprises:
Step-by-step tutorial for getting started.

Comprehensive reference manual describing every function in detail.

Reference card listing all the mouse and keyboard short-cuts at-a-glance.

Range of over 50 high quality typefaces.

Selection of clipart.

Extensive example documents.
Price £150.00
Upgrade from Ovation £140.00
All prices include VAT and air mail (where relevant).
2. Document Design
Ovation Pro opens up a whole new world of document design with its unrivalled frame handling facilities. At last you can flow text inside and outside irregular frames or rotate them to any angle in both cases the text remaining fully editable. Path Edit Mode allows frame shapes to be edited at any time, and a special feature allows one shape to be changed to another even to regular polygons.
Other outstanding features include: frame skew, radiused corners, vertical text alignment and multi-column frames with column guides all new to the RISC OS platform!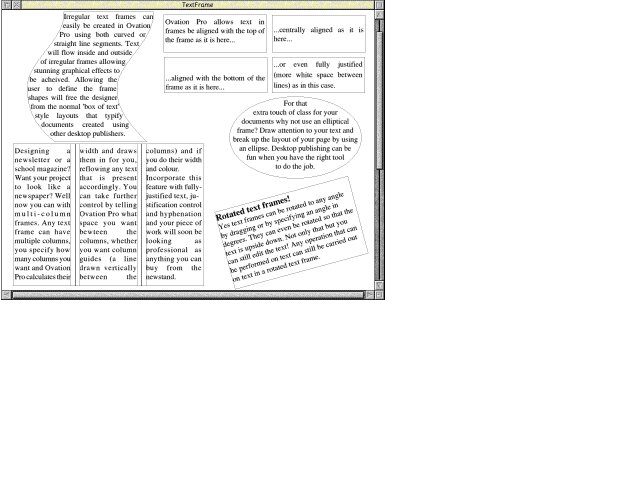 Irregular and rotated text frames.
3. Adding Style
Ovation Pro provides probably the most comprehensive range of style and format effects available on any DTP system and all accessible from a few simple dialogue boxes!
In addition to the usual Bold, Italic and Underline effects, Ovation Pro offers special features such as Skew and Rotate, and gives full typographical control over other effects such as underlining thickness, superscript size etc. Implemented for the first time on the RISC OS platform are powerful features such as automatic drop capitals and full control over word and letter spacing in justified text.
The advanced user-defined style system allows all effects to be assigned to named styles which can be edited at any time, updating the document automatically.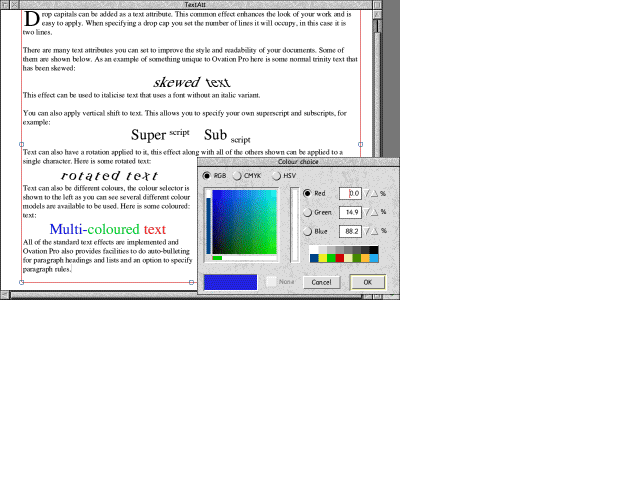 A wide range of text effects.
4. Graphics
All the major graphics formats are supported, including: Sprite, Draw and ArtWorks. Imported graphics can be accurately positioned, scaled, rotated and cropped all using the mouse or the Info Palette. Special features include skewing and automatically flowing text around irregular shaped graphics.
Ovation Pro also provides straight and curved line drawing facilities allowing simple lineart to be added to the document directly. Full control is provided over line thickness, colour and style (including arrowheads).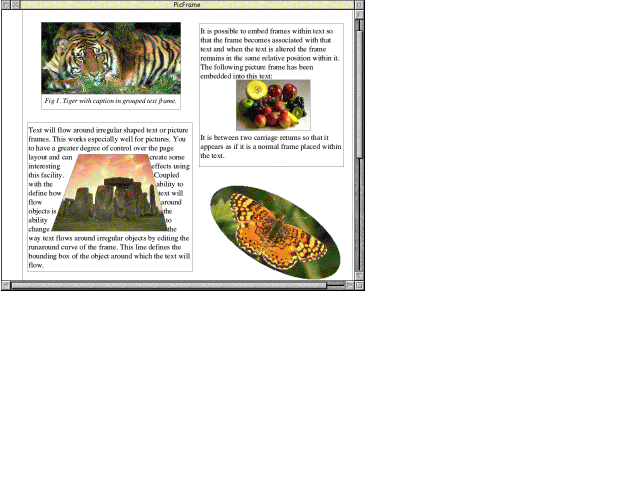 Graphics scaled, rotated and clipped to shape.
5. The Customisable DTP System
The user definable button bar enables Ovation Pro to address the needs of users at all levels from beginner to professional. You can choose exactly which functions are required and assign them to buttons on the button bar no complex menus to worry about. The macro handling facilities allow complex strings to be assigned to buttons or keys, and in fact allow the entire keyboard to be redefined if required!
6. Other Special Features
Multi-level Undo/Redo.

Integrated Spelling Checker.

Drag and Drop for copying and moving text.

OLE (Object Linking and Embedding).

Integrated Character Selector allowing special characters from any font to be inserted into the document.

Single Shift Font changes font for a single keystroke only.

Variable Width Pasteboard around the page for temporary storage of objects.

Active Master Pages for each chapter. If the master pages are edited the document pages are updated automatically.

Advanced Page Handling enabling double-sided document to be easily created and maintained.

Headers and Footers.

Colour Naming System for creating colour palettes.

Tints of colours can easily be applied.

User Definable Colour Chart.

Show Invisibles displays tabs, returns, page breaks etc.

Integrated Script Language based on a subset of C and with a wide range of useful functions.

Interactive Help that is both comprehensive and useful.

Fully Customisable with saveable choices and preferences.

Frame Borders from a range including drop shadows.

Extensive Printing Facilities including: pamphlet and galley printing and an easy-to-use mail merge facility.